How to Buy Carolina Reaper from Brazil
Shipfrombrazil.com understands that many International Buyers wonder how to buy Carolina Reaper Peppers from Brazil. With the language barrier, its hard to get in touch with Carolina Reaper producers in Brazil. Shipfrombrazil.com is a direct exporter of Carolina Reaper peppers from Brazil in Bulk for Hot Sauce Producers and Importers seeking the best Carolina Reaper products in South America.
Brazil is famously known for the Malagueta and Biquinho Peppers, but the Carolina Reaper Pepper has seen a recent growth in production due to the rising demand of Extreme Hot Pepper products by Brazilians. Today, Many Brazilian Pepper Farmers produce the hottest peppers in the world such as the Carolina Reaper, Scorpion Pepper and Ghost Peppers.
Shipfrombrazil.com partners with domestic producers and Farms in Minas Gerais and Sao Paulo Brazil that produce the highest quality and hottest Carolina reapers in the Brazilian market. Our Carolina Reaper products are supplied in Whole Peppers in vinegar Preserve, Mash, Puree, Dehydrated Peppers and Pure Powder with Kosher Certification.
If you are a hot sauce producer looking to find a new supplier or buy Carolina reaper in Bulk from Brazil, Please contact us for pricing, samples and specifications. We provide Bulk Export services with Global shipping via airfreight and ocean freight. For US Buyers not wanting to deal with USA Import Bureaucracy, we provide direct import services into the United States with delivery to your door.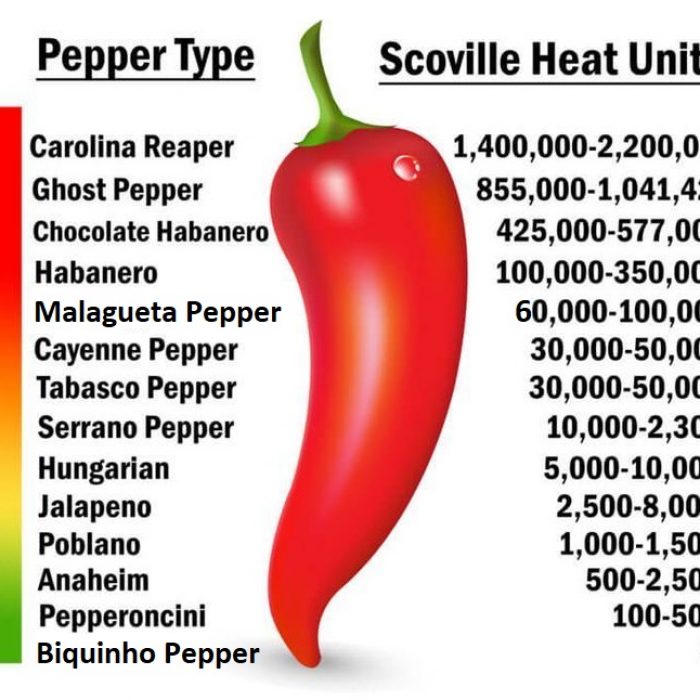 Types of Carolina Reaper Products
Carolina Reaper Whole in vinegar preserve (Kosher)

Carolina Reaper Pepper Puree (Kosher)

Carolina Reaper Pepper Mash (Kosher)

Dehydrated Carolina Reaper Pepper

Carolina Reaper Pepper Powder
Packaging and Shipping
Carolina Reaper Puree and Mash – 200 L Barrels

Carolina Reaper in Preserve – 200 L Barrels

Dehydrated Carolina Reaper – 1 -5 KG Transparent Pack

Carolina Reaper Powder – 1 -5kg Transparent Pack

Learn How to Buy Carolina Reapers from Brazil

At Shipfrombrazil.com, our specialty is the exportation of the highest quality Brazilian Peppers. We ensure the Peppers are produced to your specification and needs. Shipfrombrazil.com is a reg istered Trading, Import and Exporting Company in Brazil with CNPJ: 11.343.847/0001-95 and located in Rio de Janeiro, Brazil. We specialize in assisting International Buyers seeking to import products from Brazil at competitive pricing and logistics assistance. Our Team is experienced in finding the right product that fits your needs, provide all exportation registration services in Brazil, Internal Logistical and customs clearance. For US Buyers, we also offer Importation and Delivery services in all 50 States.If you are looking for a product we do not offer, we offer Specialized Sourcing and Procurement Services for all goods produced in Brazil.